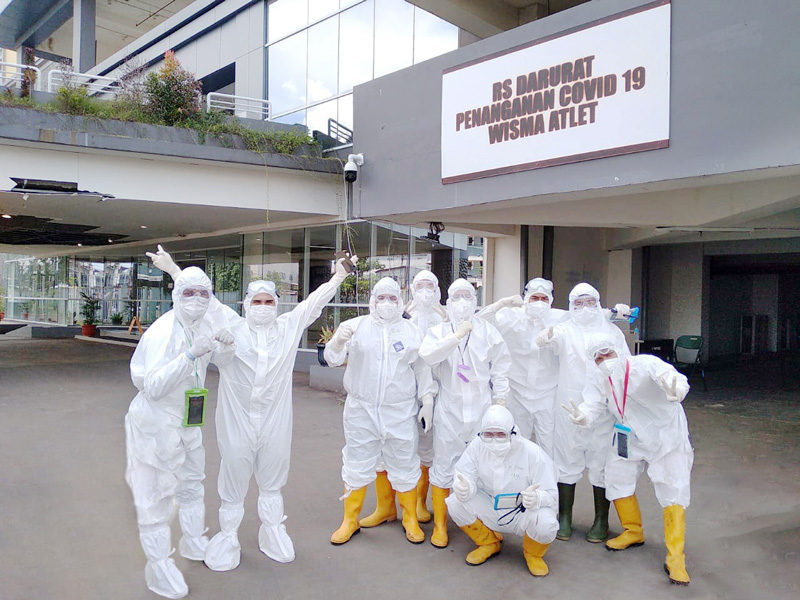 Jakarta, May 1, 2020 – The Covid-19 pandemic in Indonesia has reached its first year after the government officially announced Patients 1 and 2 in early March 2020. During this emergency, the government established a Covid-19 Emergency Hospital (RSD) at a former accommodation building complex for Asian Games 2018 athletes or "Wisma Atlet Kemayoran" in Central Jakarta.
The first anniversary of RSD Covid-19 Wisma Atlet Kemayoran Jakarta was solemnly held today with strict health protocols. Head of the National Disaster Mitigation Agency (BNPB) and the Covid-19 Task Force Doni Munardo attended the event with health workers and other officers.
Le Minerale—an Indonesian bottled mineral water brand produced by PT. Tirta Fresindo Jaya (Mayora Group) felt a calling to help the medical officers and has distributed 65,000 galon jugs (each galon equals 19 liters) of mineral water free of charge since the first day the RSD Covid-19 Wisma Atlet was officially opened. Health workers are standing at the frontline in the battle with Covid-19. Therefore, Le Minerale wants to make sure that the mineral intake of every health worker is adequately supplemented so that they can remain physically fit when performing their duties.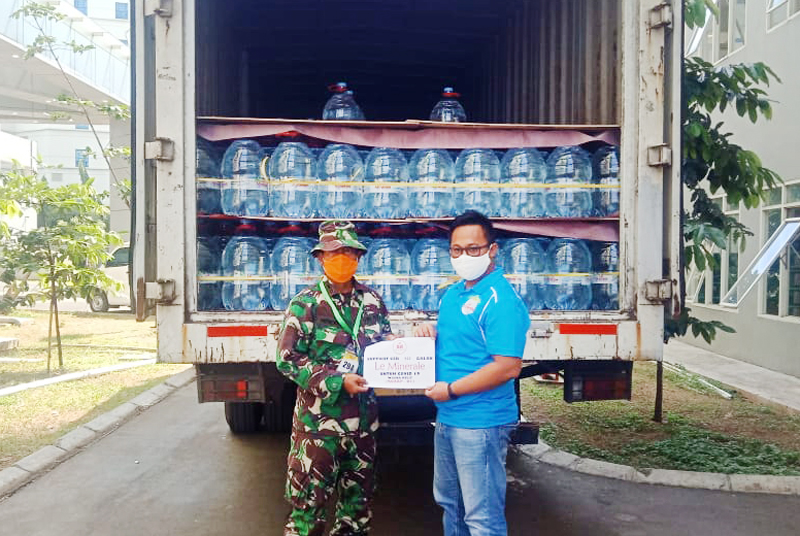 RSD Covid-19 Wisma Atlet Field Commander Marine Lt. Col. Muhammad Arifin said, "Patients direly need quality mineral water to help their recovery process. We opt for Le Minerale galons because they are always new. Therefore, their hygiene is well preserved, be it before consumption as well as after consumption, in which during both occasions, the hygiene and sterility need to be ensured."
"Le Minerale is proud to contribute in supporting the government in the battle against Covid-19 by ensuring safe and hygienic mineral water supply, especially for health workers and Covid-19 patients at the RSD Covid-19 Wisma Atlet Kemayoran Jakarta. This is in line with the vision of Le Minerale to always commit to supporting programs for a healthier Indonesian people," explained Febri Hutama, Marketing Manager at Le Minerale.
Reisa Broto Asmoro, as an expert on health, stated that quality nutrition intake has to remain a priority for everyone during the Covid-19 pandemic. Maintaining a physically sound body is paramount while adopting a healthy lifestyle—also, frequent consumption of quality mineral water and always adhering to health protocols everywhere.
"Mineral water consumption with micronutrients also serves an important role in boosting the immune system in the human body. Right now, it is important for everyone to routinely consume quality mineral water to meet the optimal amount of mineral that the body cannot manufacture on its own", explained Reisa.
"Le Minerale is quality mineral water sourced from select mountain springs and contains natural minerals. Aside from its BPA-free packaging, an always-new galon packaging, made Le Minerale hygienic and safe to be consumed by everyone," added Febri Hutama.
As the producer of quality mineral water and the pride of the Indonesian people, Le Minerale has also contributed to the effort of environmental conservation by producing 100% recyclable galon containers. To realize their commitment PT. Tirta Fresindo Jaya (Mayora Group), through their Le Minerale brand, has established a collaboration with several associations such as Waste4change to allocate several plastic waste drop-off and collection points at 18 locations at the Child-Friendly Integrated Public Spaces (RPTRA), Indonesian Garbage Collector Association (IPI), and the Indonesian Plastic Recycling Association (ADUPI) to recycle all plastic products collected by Le Minerale plastic waste collector partners.