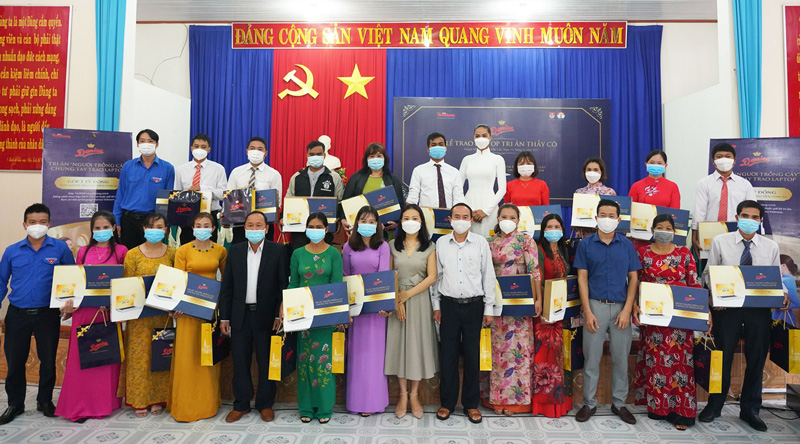 Ho Chi Minh City, October 28, 2021: On the occasion of Teachers' Day this year, Danisa – the prestigious butter cookies brand from Denmark has unveiled the program titled "Together with Danisa, Share Gratitude To Teachers, Join Hands To Give Laptops" to honor the enthusiasm and together with the community to show gratitude to teachers nationwide. In the digital era, when the whole industry is gradually transforming towards 4.0 education, teachers in the mountainous villages will be the first to face difficulties in accessing and keeping up with this innovation roadmap. Due to difficult economic conditions, many teachers cannot afford to equip themselves with a computer for teaching, such as preparing lessons, updating new programs, participating in online professional training courses, and accessing advanced knowledge and teaching methods… This makes their demanding work more challenging.
Understanding these concerns, Danisa wishes to join hands with customers and the community to spread appreciation and give meaningful gifts to the teachers in mountainous areas, motivating them to continue their enthusiastic journey of giving knowledge.
Accordingly, from now until November 20, Danisa customers can send wishes to teachers by sharing the gratitude gifts created on Danisa Vietnam Fanpage or purchasing Danisa products as a gift for Teachers. With each participation, Danisa will contribute 10,000 VND into the program to grant laptops to teachers in remote areas with a total donation value of 1 billion VND. This year's program has received support from many partners, including Tien Phong Newspaper as a media partner, Miss Universe Vietnam 2017 H'Hen Nie as the program ambassador as well as the representative of the Embassy of Denmark in Vietnam to introduce and spread the value of gratitude from the program to the public in Vietnam.
"Veneration to teacher and respect to morality" is one of the traditional values cherished by generations of Vietnamese people. Every year, on Teachers' Day on November 20, wherever students are, they will remember and show their gratitude to their teachers.
Danisa offers a premium tin can butter cookies, made with passion to perfection from the finest quality ingredients using an authentic Danish recipe. Unparalleled craftmanship and consistency has established Danisa as one of the world's most sought-after treat. Therefore, in the past few years, the box of Danisa butter cookies has become a noble gift chosen by generations of Vietnamese students to their teachers on the special occasion of Teacher's Day, representing the unspoken gratitude. To pay tribute to its customers, Danisa has also persistently accompanied Vietnamese consumers to celebrate Teacher's Day with many meaningful initiatives.
"As a gift symbolizing noble gratitude for many years, Danisa has always accompanied customers to express their heart to teachers through meaningful activities on the occasion of November 20. This year's campaign aims to call for the whole community to join forces to create a meaningful program for teachers, and at the same time spreading the spirit of gratitude, which is already a wonderful tradition of the Vietnamese. Danisa is very proud to receive the attention and support of many partners, with whom we will create a meaningful season of gratitude for the teachers, who sow the seeds of valuable knowledge for many generations of students," shared Mr. Sunardi Tjhin – Country Manager Danisa Vietnam.
With that in mind, Danisa's program "Share Gratitude To Teachers, Join Hands To Give Laptops" not only inspires the community to appreciate and honor the giver of knowledge, but also wishes to create a special "gift" worth 1 billion VND to grant laptops to teachers in remote areas, thereby providing encouragement and teaching facilities to help them overcome the immediate difficulties.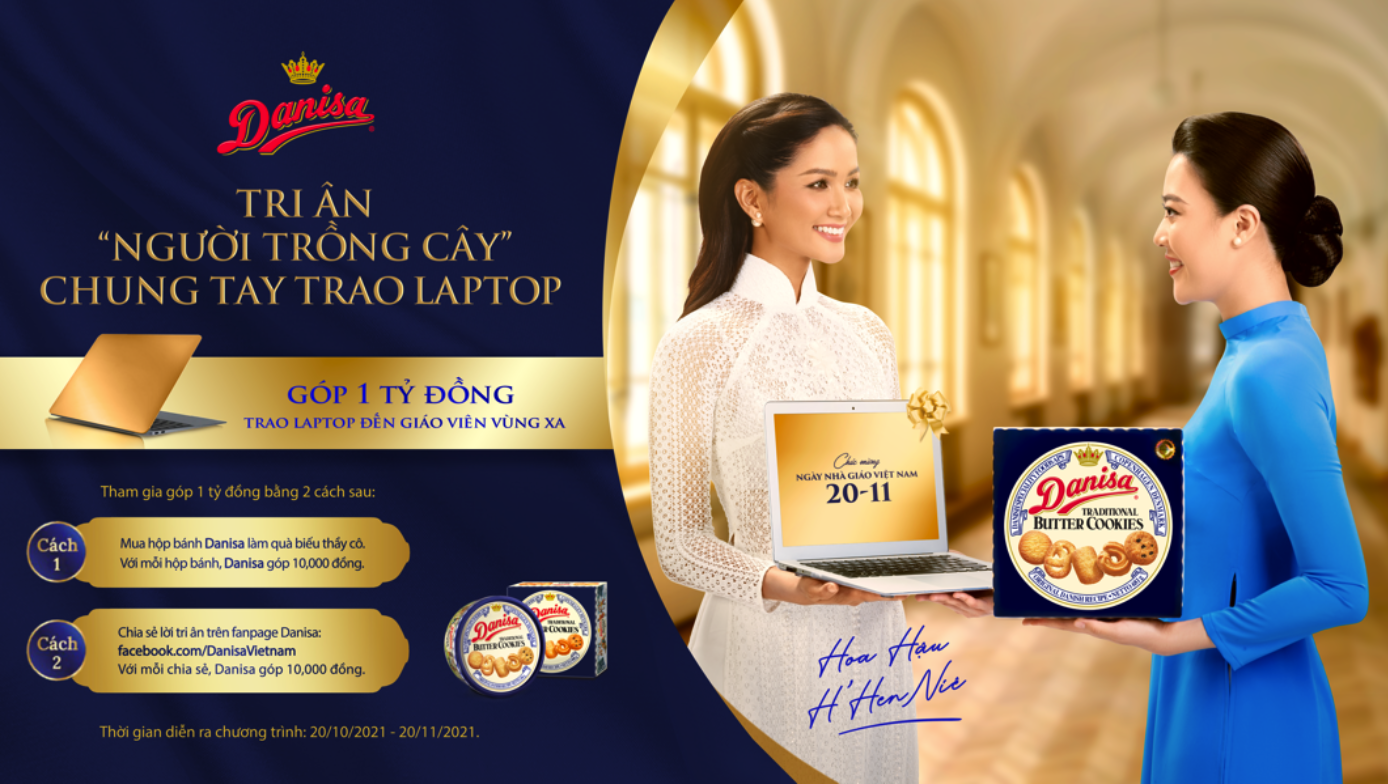 "Together with Danisa, Share Gratitude To Teachers, Join Hands To Give Laptops" – a program to spread out gratitude spirit, giving laptops to teachers at remote areas
From now until the end of November 20, customers can join the program with Danisa in 2 simple ways:
- Way 1: Buy any Danisa product as a gift for teachers at stores and supermarkets nationwide, or at Lazada Official Store at https://www.lazada.vn/shop/mayora-viet-nam
- Way 2: Create a meaning virtual gratitude gift for teachers with a personal message at www.danisa-monquatrian.com and share on your Facebook.
For each participation, Danisa will contribute 10,000 VND in the VND 1-billion laptop donation program for teachers in the mountainous. The journey is slated to occur at five (05) school sites in Dak Lak, Cao Bang, Ha Giang, and Thanh Hoa provinces. Moreover, the most ten (10) weekly meaningful virtual giftings created by Danisa's application will also receive special surprises which are the personalized gift packages, sent by Danisa to their beloved teachers on the occasion of 20/11.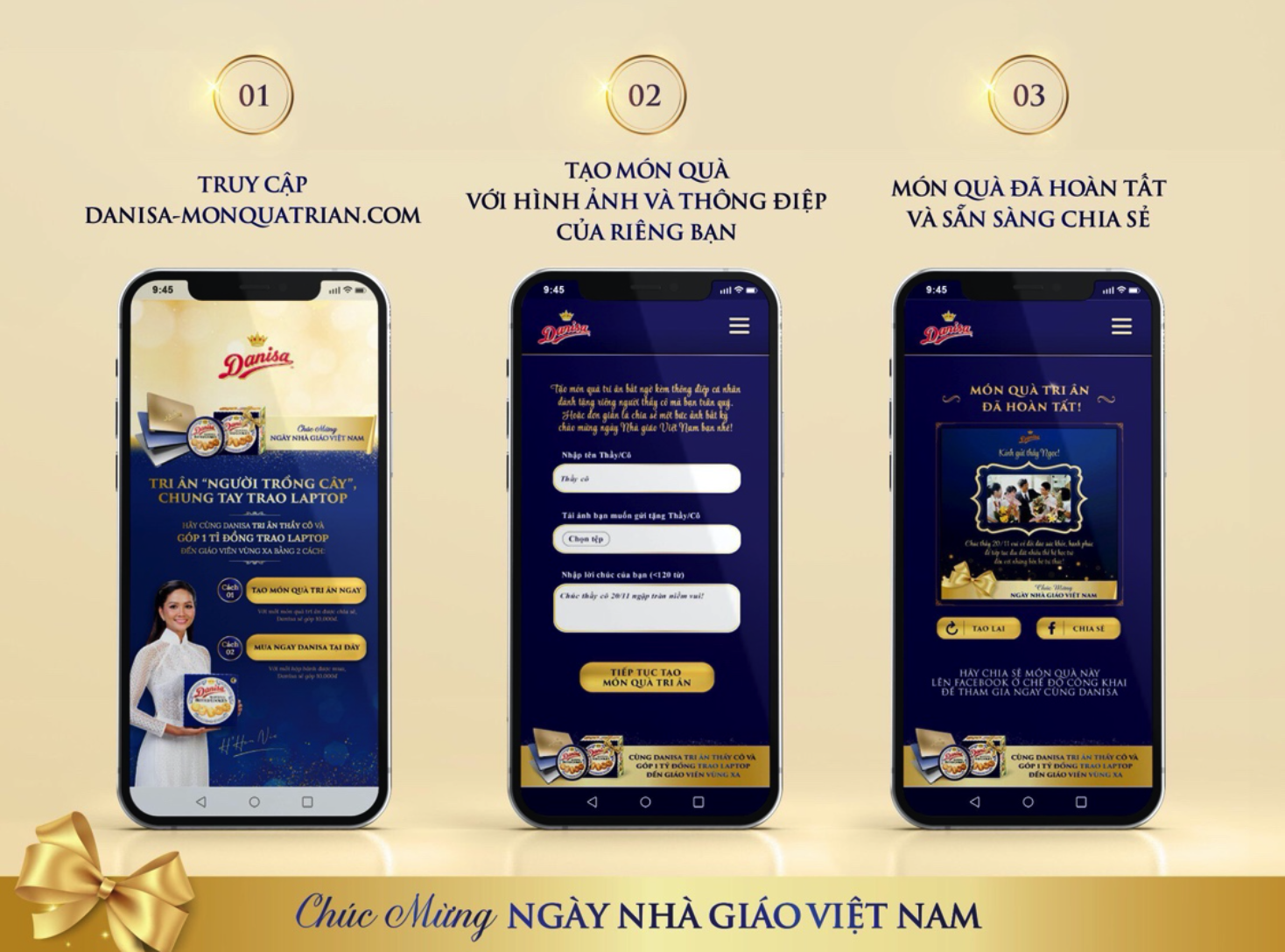 By sharing a virtual gratitude gift created at www.danisa-monquatrian.com, you have joined hands with Danisa to create a meaningful Teacher's Day
Mr. Troels Jakobsen - Danish Commercial Counsellor from Embassy of Denmark in Vietnam also shared his advocacy for the program: " Expressing gratitude through gift- giving is a traditional culture of the Danish people. Inheriting that long-standing culture, Danisa - the Danish famous butter cookies brand continues to spread inspiration and gratitude ​​​​throughout its activities in Vietnam. I would like to warmly congratulate Danisa for creating this meaningful programme 'Share Gratitude to Teachers, Join Hands to Give Laptops' to express our gratitude to Vietnamese teachers, especially to help improve working conditions for those teachers who are now working under difficult situation in remote areas. I hope that this programme will inspire others to follow to underpin the essential and respectful role of teachers and their contribution to fostering future generations for Vietnam."
Accompanying the campaign, Miss Universe Vietnam 2017 H'Hen Niê shared: "As a child from the mountainous area, I understand the difficulties and hardships of highland teachers to bring education to students in the remote villages. Teachers are not only the givers of knowledge but also the mentors of children's thoughts and dreams. Each of us has teachers who we especially love and are grateful for. On the occasion of this year Teacher's Day, I am honored to accompany Danisa to spread the spirit of gratitude to honor the teaching profession and above all, donating laptops which are very practical and valuable to encourage teachers in remote areas".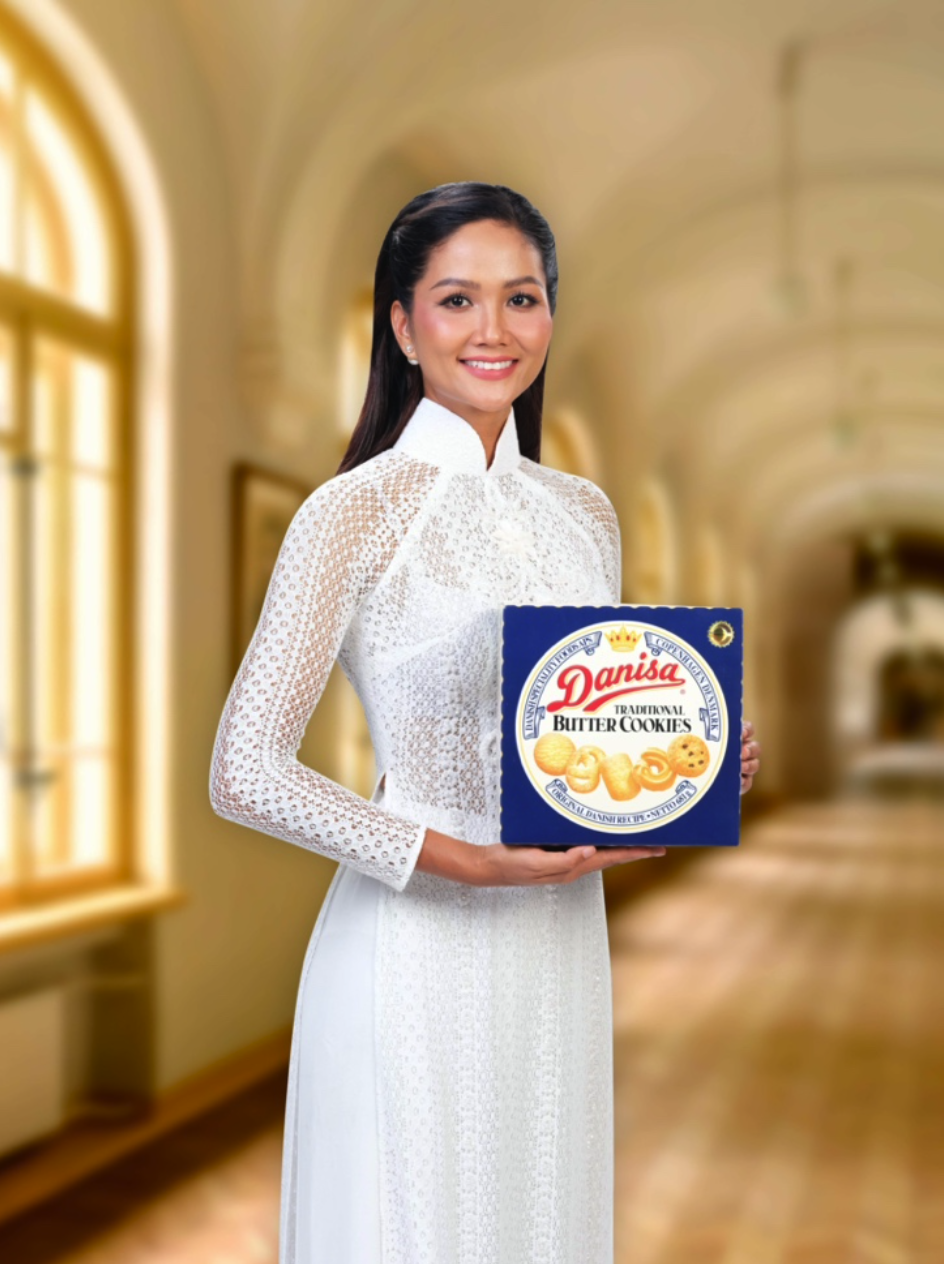 Miss H'Hen Nie is delighted to accompany Danisa to give meaningful gifts to Vietnamese teachers on this special occasion
Gratitude cannot always be expressed in words. Therefore, this Teacher's Day season, Danisa is delighted continue its meaningful journey to celebrate the passion of the teacher as well as to to accompany many generations of students in Vietnam to express their unspoken gratitude. Despite of distance, on this special occasion, our consumers still can send their hearts to their beloved teachers through a premium Danisa butter cookie box or a personalized virtual gratitude gift designed specially by Danisa.
Let's celebrate this Teacher's Day in a special manner, with Danisa. For updates on campaign milestones and laptop donation activities, please visit Danisa's fanpage at https://www.facebook.com/DanisaVienam