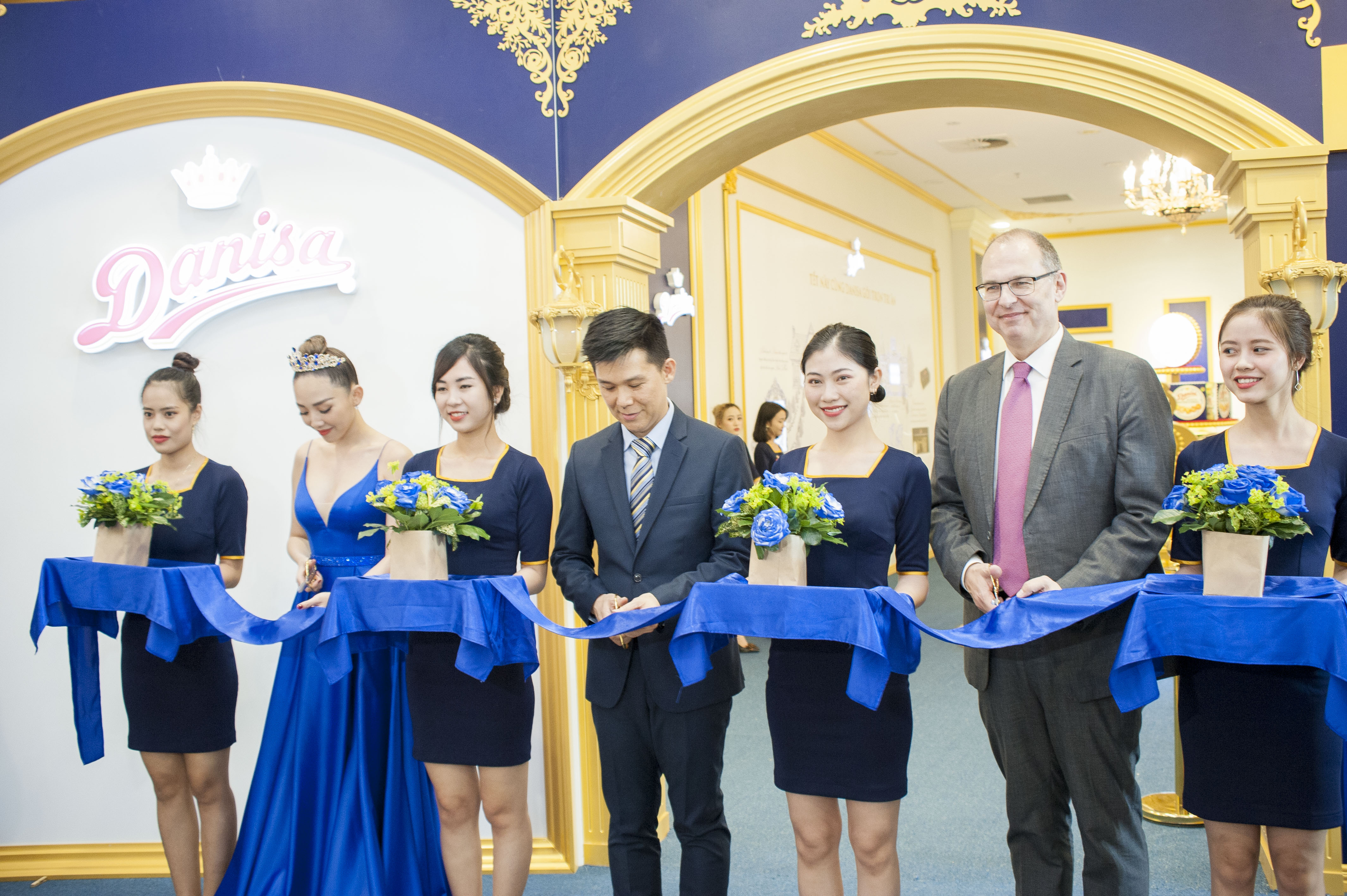 Ho Chi Minh City, January 11th, 2019: Danisa - the prestigous butter cookies brand originated from Denmark, launched its 2nd inauguration activation "Danisa Royal Gift House" at the Landmark 81 from Jan 11th, 2019 until Jan. 27th 2019. Danisa aims to inspire Vietnamese consumers about the beauty of Danish gratitude gifting with key message "Together with Danisa, wrap your gratitude in Tet", Danisa will also uplift the gifting culture to the next level of sophistication and class. The gift has gone beyond its material meaning to become a symbol of a sincere gratitude. The program also has the presence of the Danish Ambassador in Vietnam to introduce the beauty of gifting culture from Denmark.
Understanding the deep meaning of Vietnamese gifting culture, Danisa has designed the "Danisa Royal Gift House" - an artistic space to tell stories about gifting and inspire visitors about the profound meaning of gifting. This Tet Danisa has taken a further step to deepen the act of gratitude in gifting which takes new perspective to emphasize on the one you love, care and respect. With a luxurious design, simulating the image of a giant gift box, participants entering the event area will experience a classy Danish royal space with surprising and impressive experiences.
One of the highlights of the event is an unique visual experience on an interactive wall using mapping technology, inspired by the story of exquisite Danish art of gifting. Originating from the Danish tradition of giving hand-made cookies on special occasions, Danisa butter cookies now becomes an indispensable part of Danish gatherings. Beyond that, the original authentic Danish Recipe has conquered millions of people across 5 continents. With vivid drawings and unique interactive technology, the wall promises to bring many interesting experiences for visitors to be able to touch, feel and understand the enthusiasm behind the luscious Danisa butter cookies.
To uplift the art of gifting to the next level, Danisa for the first time has introduced 3 (three) limited edition gift sets with different themes. For parents, siblings in family or close relatives, the Love gift set will encapsulate your gratitude, love message sent to relatives. The Care gift set is appropriate to express gratitude to friends and colleagues. And finally, the Respect gift set is a delicate message that expresses gratitude to those who have contributed to our growth such as supervisor, boss or leaders. At the gifting area, customers can select meaningful gifts and write their own sincere messages on the attached greeting cards.
Sharing about Danish gifting culture, Mr. Kim Højlund Christensen - Danish Ambassador in Vietnam said: "In Denmark, we often give gifts on Christmas or Birthday or when we are invited to someone's house. Flowers for who we love, containing love messages; while a box of butter cookies packed the message of the unspoken gratitude. Danisa is a well-known Danish company with a long tradition of creating high quality butter cookies that are very suitable for gifts, expressing gratitude to those we love and respect. I believe that the Danisa butter cookie box will always be considered an exquisite, special gift to give or share with someone you love. "
Also in this event, Vietnamese pop star Toc Tien has shared her appreciation for being invited as a special guest: "As a representative for the young generation, I always feel grateful to the love, care and respect that I have received. So I am always willing and want to find a way to express my gratitude for the people around. On the 2nd year collaboration with Danisa, through this Danisa Royal Gift House event, I hope to inspire our people about the art of gratitude gifting in Tet and spreading the gratitude culture to many Vietnamese youth."